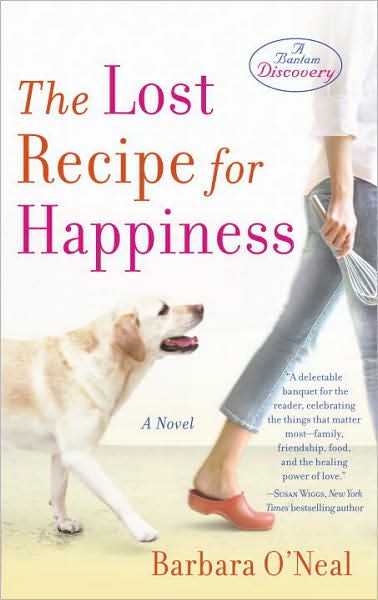 The Lost Recipe for Happiness, of course.    Only 22 days until arrives on a bookshelf near you.    If you haven't already done so, you can pre-order here.  
In the coming weeks, there are a couple of things to be looking for.  First, the official Barbara O'Neal website will be up and running very soon, replete with excerpts, tidbits, and extras. 
Second, be thinking about your top three favorite meals ever for a contest.  This is a question that runs through the book, and it's a lot of fun to think about.  You can post your favorites, and be eligible to win a basket of goodies.   I'll also showcase the best entries in coming months.    You can read some of mine on the B&N website. Go to "features"   http://search.barnesandnoble.com/The-Lost-Recipe-for-Happiness/Barbara-Oneal/e/9780553385519#ITV.    
Here is a beautiful review from Romantic Times:
Beautiful writing, good storytelling and an endearing heroine set against the backdrop of Aspen, Colo., are highlights of O'Neal's novel. A tale that intertwines food, friendship, passion and love in such a delectable mix is one to truly savor until the very last page.
Summary: Strong-willed Elena is a chef by trade and the lone survivor of an accident that has left its mark on her both physically and mentally. After being fired suddenly from her current job, she meets Julian, a film director/restaurant owner who offers her an opportunity of a lifetime — to run her own kitchen in a first-class restaurant. When Elena heads to beautiful Aspen, for a fresh start, she's not only stirred by this new challenge but also by Julian, whose passionate take on food and life matches her own. (Bantam Discovery, Jan., 464 pp., $12.00)
—Melanie Bates